The museum is located in the former keepers' house which was built in 1891 as a duplex for the head Keeper and the Assistant Keeper and their families.
The history of Portland Head Light is told through exhibits displaying artifacts and documents, navigational aids, Fresnel lenses, models, and photographs. A historical timeline will guide your tour through the museum beginning with the origin of the lighthouse and the lives of the keepers, technology changes over the course of 200 years, the military activities at Ft. Williams, and ending with the decommissioning and automation of Portland Head Light in 1989. The museum opened in 1992. The lighthouse tower is only open to the public one day per year on Maine Open Lighthouse Day.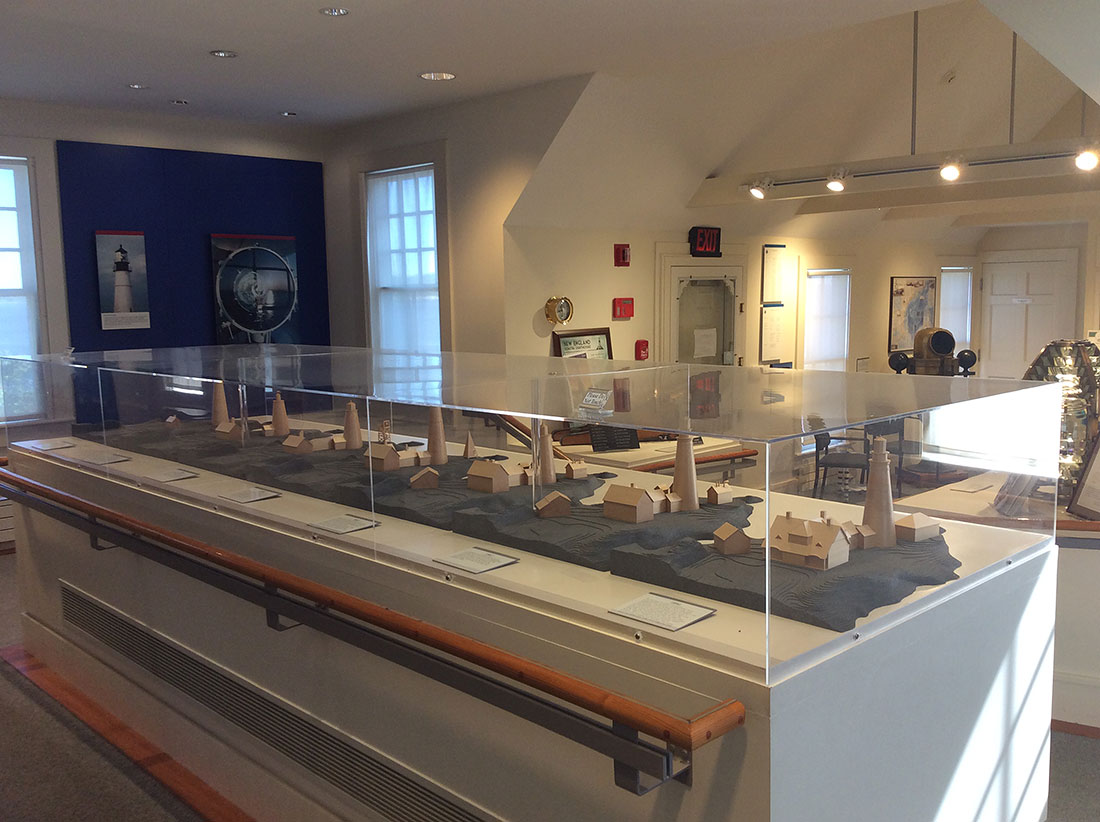 The Museum at Portland Head Light proudly offers the following items as a sample of our Gift Shop selection.
To order one of these items, or if you have any questions, please call us: 207-799-2661
Portland Head Light & Fort Williams Book - TG2W
by Kenneth E. Thompson Jr.
A completely readable guide to Fort Williams Park and Portland Head Light. The book includes 100 illustrations and a walking guide map.
$15.00 plus $2 shipping
Total: $17.00
Portland Head Light Ornament - VDU2W
Boxed 24K gold plated ornament with fine detail 21/2" x 31/2" "Collectible quality"
$20.00 plus $3.00 shipping.
Total: $23.00
Portland Head Light History Book - PWI 1W
Brief history of Portland Head Light and surrounding forts and lighthouses. Suitable for research on school projects.
$5.25 plus $1.00 shipping.
Total: $6.25
Portland Head Light Charm - RA8W
Sterling silver pendant and/or charm
3/4 x 7/8"
$50.00 plus $5.00 shipping.
Total: $55.00
Portland Head Light Ornament - VDU2W
Boxed 24K gold plated ornament with fine detail 21/2" x 31/2" "Collectible quality"
$20.00 plus $3.00 shipping.
Total: $23.00
Mystic Morning Matted Print - IP8W
The sun hovers just above the horizon melting away the early morning mist, it's golden reflection shimmering along the calm waters of Casco Bay. Another day begins at Portland Head Light. This spectacular 8x10 matted print is wonderfully captured by Maine photographer Richard Morin.
$21.00 plus $5.50 shipping.
Total: $26.50
Romantic Dawn Matted Print - IP3W
Gentle waves caress the shoreline. The beam of the majestic beacon frozen in time. A foggy curtain rises as dawn breaks at the Portland Head Light. This magnificent 8x10 matted print is beautifully captured by Maine phtographer Richard Morin.
$21.00 plus $5.50 shipping.
Total: $26.50
Panoramic Giclée Prints of Portland Head Light
Acclaimed Maine photographers, Paul Vose and Chris Lawrence, capture Portland Head Light in its most dramatic moments. These fine art quality giclée prints portray the essence of the Maine coast.
12" x 36" - Shipped in a tube.
$42.00 each plus $5.00 shipping.
Total: $47.00